Bullet Train at Kanazawa Station
Situated on the mid-west coast of Honshu and noted for its maritime culture, Kanazawa proved to be a fascinating place. Nearly three hours on the bullet train was more like a magic carpet ride and we drew into ultra modern Kanazawa station on the minute. As with most major Japanese cities, the station has everything – malls, high rise hotels, department stores and everything in between. Just as well as the weather on our arrival was foul – like Tokyo only worse – and trapped us (at least Sally) in shopping mode – new shoes, new bag while yours truly minded the luggage. It was almost dark when we made it to the hotel – sleek looking in the reception area, but again a tiny room with locked window encouraging claustrophobia. But this hotel had the advantage of its very own onsen, Japanese for bath house where men and women, separately, go through the naked cleaning and bathing ritual. I found it very pleasant, if a little disconcerting. Sally couldn't wait to enjoy the experience but unusual circumstances made it VERY disconcerting for her, but that's a story to be told by her at another time.
The next day, our only full day in Kanazawa, mercifully stopped raining, though the clouds were low. It turned out to be perhaps our best day in Japan yet. We headed for the Kenruko-en Garden, one of the supposed three best in Japan. The autumn colours were splendid and the paths wandered through an extraordinary variety of small vistas including two small lakes, a quite steep hill over looking the whole garden, avenues of exotic tiny trees, some with leaves in brilliant red and others in various hues from soft yellow through to pinks, oranges and burgundies, all contrasted with the bright greens of the pine trees.
Across from the garden was the contemporary Art Museum, much praised In the blurb in our Lonely Planet guide. It is a big airy building, all white and glass panels with high ceilings. The exhibition filling it, I don't know whether it was permanent or not, was devoted to the idea of new ways of living for the new age. Much of it celebrated a link between Danish and Japanese design and was full of fanciful and fabulous as well as more serious concepts. A Danish artist called Helman(?) Lehl (?) had lived on Okinawa in a beautiful beach house for many years and during this time had been disturbed by the huge amount of detritus washed up on the beaches, all cheap plastic bottles, rope and other rubbish. He was so concerned about this ruination of the pristine landscape that he decided to draw attention to the issue by creating an art collection based on this colourful rubbish and published a book devoted to the amazing series of art works. We turned into the next large room and there it all was, in great hangings, pillars, installations and extravagant chandeliers, distorted and exaggerated in crazy mirrors around the walls of the huge room.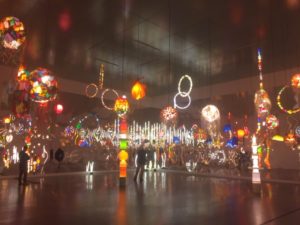 There was another exhibition of his of found stones he discovered quite by chance somewhere in India, none larger than a fist but all with extraordinary coulours and tracery. Apparently these are mostly agate. The museum was full of droll and serious exhibits, superbly presented, always in English as well as Japanese. I could have stayed there all day.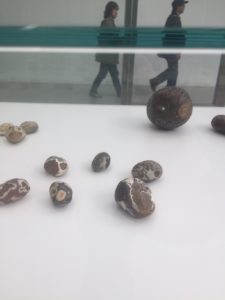 Almost next door is the DT Suzuki museum, a permanent tribute to the famous Japanese philosopher and exponent of Japanese Zen Buddhism who lived a very long life from the late 19th century until 1962. It is housed in a beautiful purpose built house in a lovely setting on the side of a wooded hill, exuding a peaceful contemplative atmosphere with a shallow infinity lake and paths through the woods. Perhaps the most notable teacher of Zen Buddhism of the 20th century, he fell foul of many colleagues with his mid-century glorification of Japanese swordsmanship and its association with militarism.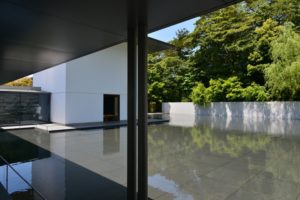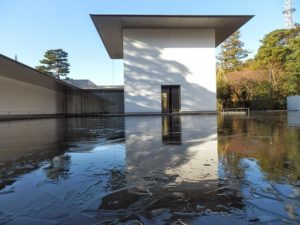 On our way back to the hotel, we stopped at the Omi-Cho market that apparently rivals the Tsujita fish market in Tokyo which we missed. Not only the seafood, but the bewildering variety of fruit and veg (the ubiquitous persimmon and nashi apple/pear). I bought a cup of halved fresh figs having a wonderful depth of flavour, but the real mouth bursting experience was a single massive oyster I bought at one stall. I saw these huge gnarled pieces of rock the size of a small pineapple and wondered what they were until I saw a woman buy one for 5000 yen ($6). The stall owner went away and brought it back opened with a giant oyster inside, perhaps 12-15 centimetres long. I gaped, bought one and ate it with chop sticks in three pieces dipped in the offered lemon juice. What a taste explosion! I let nothing pass my lips until dinner so I could savour the after taste.
The exquisite Japanese cuisine has now become a national pastime and everyone partakes of it. One of the eating phenomena is the restaurant floor, or two, at the top of every department store and now at the top of modern hotels. These might contain 20 or even 30 restaurants of every different style of Japanese cooking plus plenty of foreign fusion styles too. All of them, cheaper and more pricey, seem to be full, with rows of chairs outside each one; people waiting for up to an hour to get in. At least in the smarter stores and hotels, these are not takeaway el cheapos, but both casual and more formal fine dining places, many where the diners sit at counters while the wizard at the hotplate does his stuff.
In Kanazawa, on the top floor of the 5 star station hotel, we entered a place where each table had a little double bowl deep fryer heated by a tiny flame the diner can adjust. The waiter then pours an aromatic stock into the bowls and we are given an array of raw vegetables, condiments, pickles and thin slices of pork or beef that we each cook to our taste in the stock. To the uninitiated like us, it's a bit messy, but delicious and we left very satisfied.