ACO Photo: Wolter-Peeters
2019 Tours:
New York and Boston (1  to 14 April 2019)
 In association with Alumni Travel, I will lead a tour alongside the ACO's tour to  the USA in April 2019. We will visit New York and Boston for ACO concerts, and performances at the Metropolitan Opera, Carnegie Hall and Boston's legendary Boston Symphony. Hearing our much-loved ACO in the midst of the legends of New York and Broadway should be spine-tingling! Click here for full details or to book your place: http://www.alumnitravel.com.au/portfolio/aco-nyc-boston/
2. Northern Europe Musical Journey from Munich to Stockholm (28 July to 14 August 2019)
 Our musical journey visits four famous summer music festivals, starting in Munich at the fabulous Munich Opera Festival where we attend Wagner's great comedy Die Meistersinger starring the incomparable Jonas Kaufmann. We then travel to the Rheingau Festival in the lovely spa town of Wiesbaden, on to the prestigious Baroque MA Festival in beautiful Bruges and finally to the Drottningholm Festival near Stockholm. See full details of the tour here: Northern Europe Tour 2019 rev 1 Nov
Our recent Easter Festival Journey was oversubscribed so quickly, that I suggest to anyone thinking of joining either of the 2019 tours  should register your interest without delay, or if you want more information, complete the contact form below, or call me at 0425 206 312.
November 2018 Central Europe Tour 
Our November 2018 Central Europe Tour is  fully subscribed. It takes place from 20 November starting in Krakow in Poland and finishes in Berlin on 7 December. This exciting tour is centred around a week in the Moravian capital of Brno in the Czech Republic where a remarkable festival celebrating the Centenary of the foundation in 1918 of the Czech Republic will take place to honour their great composer Leos Janacek. All Janacek's great operas and  much of his instrumental music will be presented, involving leading singers, musicians, conductors and visiting opera companies from around the world. Details of the tour can be found here Jeffrey Central Europe Tour 2018
For those joining the tour, detailed program notes on all the performances we will attend can be read or downloaded here: Central Europe Tour 2018 Notes 2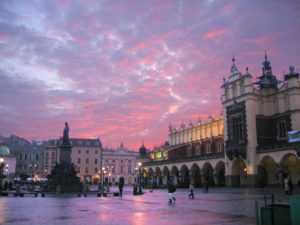 Market in Krakow